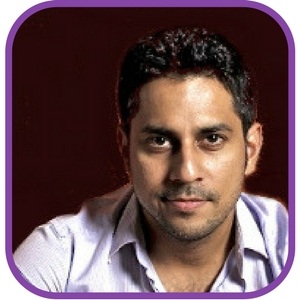 Vishen Lakhiani, is the founder & CEO of Mindvalley, Academy.
Omharmonics Meditation is a program he produced himself.  He gives away FREE Meditation Classes so people can learn first hand how much meditation can improve your life.
If you want, you can go to, Omharmonics to get my DETAILED REVIEW of his program.
Vishen Lakhiani's Life Before Mind Valley
Born in Kuala Lumpur

1955 – studied at the University of Michigan

Majored in Electrical Engineering & Computer Science

Vice President for the USA Team of AIESEC (no-profit organization helping young people to become global leaders)

2001 – Moved to New York & worked for a technology company in the legal industry

Studied the Silva Method of Meditation to deal with the stress from his job

Became a qualified instructor of the Siva Method & taught Meditation Programs for the company

2003 – Launched Mind Valley. He started with a $700 Toshiba laptop
Try a free sample of Vishen's, Omharmonics Meditation Program
VISHEN LAKHIANI'S BIO IN 2015
Has over 200 employees from 40 different countries (most work at Mindvalley)

Launched Mind Valley Accademy (a digital learning platform and store for transformational programs, courses and teachings on personal growth, mindfulness and well-being


Has over 1.5 million subscribers & students

Founder of Omvana (Health & Fittness app on iTunes store in over 30 countries)

In 2014 launched the app Dormio (12 tracs to help you get a good nights sleep) It turned out to be second most downloaded Health and Fitness app in the

USA

.
VISHEN LAKHIANI ACCOMPLISHMENTS
Vishen Lakhiani's accomplishments are as follows:
His company, Mindvalley, has made the World Blu List, four years in a row for being one of the most democratic workplaces

His Mindvalley technology has become one of the hottest tech incubators in Asia

Vishen started Awesomeness Fest which is an annual non-profit invite-only gathering of entrepreneurs. These entrepreneurs speak, network & share ideas on personal growth. All proceeds of the Awesomeness Fest are donated to CHARITABLE CAUSES.

He's an adviser to many Bay Area Startups

Most of his products include services that encourage people to improve their lives & health.

In 2012, Inc Magazine named Mindvalley one of the world's coolest offices to work in

Featured in

CBS

News,

BBC

, Entrepreneur.com & The Huffington Post

Sits on the Innovation Board of the X Prize Foundation (non-profit organization to design & manage public competitions to encourage technological development that could benefit mankind.

2015 – Integrated into the Transformational Leadership Council

Mr Lakhiani is one of the world's most sought after speakers when it comes to building a business & company culture

Has shared the stage with Tony Robins, Dalai Lama & Noble Prize Winner, F.W. de Klerk
VISHEN'S LIFE GOALS
Vishen's goal in life is to bring his own passion of personal growth to people to create a better world.   By 2020 he wants to make Mindvalley the #1 place to work in the world.  Another one of his goals is to make Kuala Lumpur one of the top 20 cities in the world to startup a business.
Try Vishien's FREE Meditation Classes to see how well it would work in your life.